Patients from Overseas
Japanese National Health Insurance program do not cover patients without Japanese National Health Insurance Card. Regarding the medical expense for the person without Japanese public health insurance certificate, we charge a double amount compared to the ordinary calculation by the Japanese public health insurance system.
We ask you to pay a deposit in case of emergency hospitalization during your brief visit to Japan.
We have accepted patients from overseas at the following divisions/departments.
Surgical oncology
Transplant surgery
Neurology
Nephrology
Neurosurgery
Pulmonology
Orthopaedic surgery
Fetal medicine
Endocrinology and metabolism
and more
The percentage of international visitors by country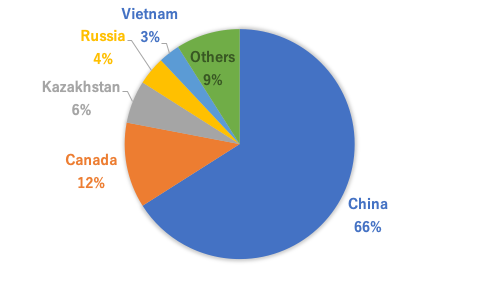 Contact a medical coordinator / facilitator
If you are not a resident of Japan and wish to receive care at our hospital, you are required to ask a medical coordinator / facilitator to contact us prior to your visit. Please select a coordinator from the following list and inform the coordinator of your intention to consult our hospital. They will manage communication between you and NCCHD. Please also provide a referral letter and information on your health condition issued by the health care institution (in your country or Japan) where you are currently receiving care.
Visa
Please apply for the "Visa for Medical Stay".