> English
> News
> 2020
> Discovery of an oocyte activation factor in sperm: a potential major role for citric acid in sperm aging
Discovery of an oocyte activation factor in sperm: a potential major role for citric acid in sperm aging
The National Center for Child Health and Development's Reproductive Science Research Group (Satoshi Kasuyu, Director Kenji Miyato) discovered that citrate synthase contained in sperm works as a sperm factor to activate fertilized eggs by using a murine model. Moreover, their study revealed the possibility that male infertility occurs as a result of age-related attenuation of citrate synthase and its consequent inability to synthesize citric acid, which may play a large role in sperm aging. Sperm which appear normally motile may still be unable to activate fertilized eggs in the absence of a sufficient quantity of citric acid. As they progress to studies with human subjects, the researchers expect that the citric acid levels in sperm will be able to be used to assess the risk of male infertility.
The results of the study were published in the American pathology journal, Laboratory Investigation.
Mechanism of oocyte activation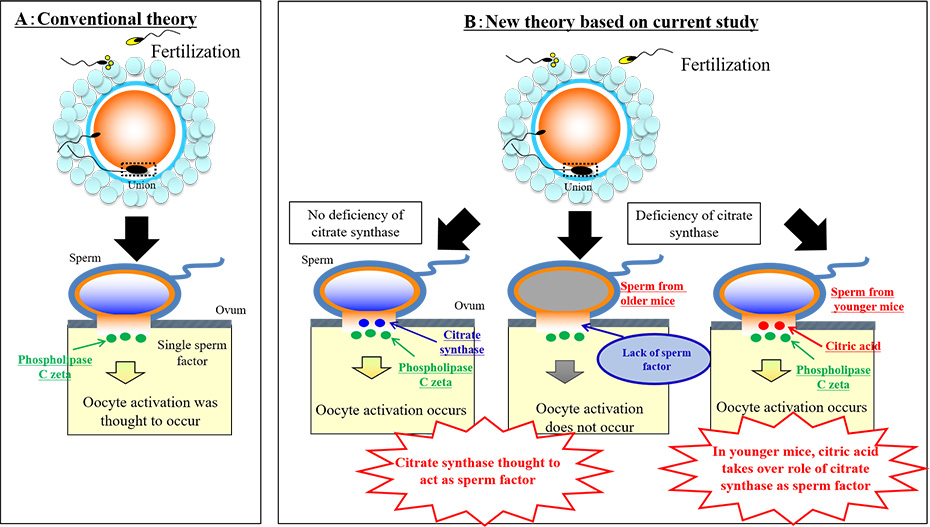 Key points
While it was previously believed that there was only one sperm factor responsible for oocyte activation, the present study revealed for the first time that citrate synthase may also function as a sperm factor.
As citrate synthase becomes attenuated with age, the citric acid content of sperm decreases correspondingly, suggesting that citric acid is related to the aging of sperm and its inability to promote oocyte activation even if it shows normal motility.
Further progress in this research is expected to result in applications for diagnosing and elucidating the causes of male infertility.
Study information
| | |
| --- | --- |
| Authors: | Woojin Kang1, Yuichiro Harada1, Kenji Yamatoya2, Natsuko Kawano3, Seiya Kanai3, Yoshitaka Miyamoto1, Akihiro Nakamura1, Mami Miyato1, Yoshiki Hayashi4, Yoko Kuroki1, Hidekazu Saito1, Yasuhiro Iwao5, Akihiro Umezawa1, Kenji Miyato1 |
| Affiliations: | 1 The National Center for Child Health and Development;2 Juntendo University;3 Meiji University;4 University of Tsukuba;5 Yamaguchi University |
| Title: | Extra-mitochondrial citrate synthase initiates calcium oscillation and suppresses age-dependent sperm dysfunction |
| Published in: | Laboratory Investigation |